Experience a modern day twist on traditional recipes by local masters*
2015 Participating Chefs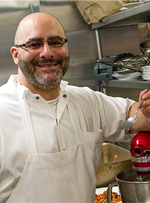 AlEX Capasso
Chef/Partner | Crow & the Pitcher
Jonathon Cichon
Executive Restaurant Chef | Lacroix Restaurant
Jonathan Cichon was named Executive Chef of Lacroix, the progressive, award-winning restaurant at The Rittenhouse hotel, in fall 2010. Known as one of Philadelphia's top rising star chefs, Cichon seamlessly fuses the freshest seasonal ingredients to create his own culinary masterpieces. In his role, Cichon also oversees menu creation, kitchen staff management, inventory, and plating.
It was during his business classes in college that Cichon realized that he could turn his passion for food into a career on the line instead of behind a desk. He pursued a job at Freighthouse in Doylestown, Pa. and worked every station in the kitchen.  Cichon quickly learned to create authentic dishes with a modern twist. Inspired by his newfound skills, he enrolled in the Restaurant School in Philadelphia, to start his professional culinary career.

Cichon arrived at Lacroix in 2005 as an intern studying under Chef Jean-Marie Lacroix while attending Restaurant School and he continued to work at the restaurant after graduation. In 2009 Cichon briefly left Lacroix for a short stint as Sous Chef at Supper restaurant in Philadelphia, however, he could not stay away and within one year, Cichon returned to Lacroix as Sous Chef under the renowned Chef Jason Cichonski.

Together Cichonski and Cichon built Lacroix's reputation as one of Philadelphia's finest award-winning restaurants. When Chef Cichonski left Lacroix in fall 2010, Cichon stepped up to take on the role of Executive Chef. His continued ability to create progressive flavor combinations never fails to surprise and delight Lacroix's guests.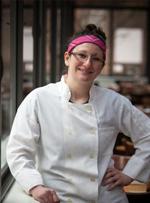 Julie Kline
Chef de Cuisine | Alla Spina, A Vetri Family Restaurant
Some of Julie Kline's earliest memories revolve around canning tomatoes grown in her family's robust backyard garden, big nightly family dinners and being at her mother's side in the kitchen, eager to help with whatever task was at hand. In high school the Birdsboro, PA, native entered a culinary vocational program, and also made her first foray into the restaurant industry taking a job bussing tables. Kline is a 2007 graduate of the prestigious Johnson & Wales University (JWU) in Providence, RI. In addition to earning a Bachelor's Degree in Culinary Arts, she was a starting pitcher for the school's varsity softball team.
While in culinary school, Kline completed a joint JWU/DCT International Hotel & Business Management School program in Vitznau, Switzerland, traveling and immersing herself in Swiss, Mediterranean and Northern Italian cuisines. Her first professional kitchen job was during sophomore year, when she completed an externship as a line cook at Harriman's Restaurant located at the Mount Snow Ski Resort in West Dover, VT. Upon graduation, Kline stayed in Rhode Island working as a Banquet Chef at the Shelter Harbor Golf Club in Charlestown, before moving closer to home to join the team at Judy's on Cherry in Reading, PA. She worked her way up the line, eventually becoming Chef de Cuisine and overseeing the restaurant's day-to-day kitchen operations, which later led to managing two sister properties.
Having developed a passion for Italian cooking during her college days, Kline has always kept an eye on Philadelphia's acclaimed Vetri Family of restaurants. In late 2011, Chef Marc Vetri put out an open call for chefs to be part of the opening team for his latest restaurant, Alla Spina. Kline jumped at the opportunity, earned a spot on the line and helped launch Alla Spina in February 2012. Within a year she was named Sous Chef, and in November 2014 she earned the title of Chef de Cuisine.   
When not in the kitchen, she can be found spending time with her friends and family, riding the ski slopes on her snowboard and rooting for her beloved Boston Red Sox.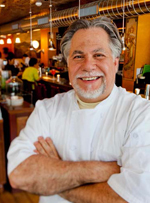 Al Paris
Chef & Proprietor | Paris Bistro, Heirloom & Green Soul
Al Paris is professional chef/restaurateur with more than thirty years of experience in food preparation, supervision, design and finance. He is highly skilled in American, French, Italian and Asian cuisines, with an excellent understanding of food and beverage pairing.
His professional resume includes: Chef/Owner of Heirloom Restaurant; Chef/Owner of Mantra Asian Pub; Chef/Owner of Pat Bombino's Italian Generational Cuisine; Corporate Executive Chef of Zanzibar Blue, The Sound of Philadelphia (Atlantic City), Warmdaddy's; Corporate Executive Chef of McFadden's at Citizens Bank Park, Sully's (Louisville, KY), Maker's Mark (Louisville, KY), McFadden's (Hampton, VA); Chef/Partner of Rococo (Gourmet magazine's "America's Top Table", Wine Spectator "Award of Excellence"); Chef/Partner of Guru ("People's Choice" award); Chef/Partner of City Grill; Chef/Partner of Circa; Corporate Executive Chef of Marabella's Corporation, Philadelphia (Opened high-end Tuscan concept, Pomodoro as Executive Chef/General Manager); Executive Chef of Cain Cellars Winery, Napa Valley; Executive Chef of La Belle Helene Restaurant, Napa Valley.
His personal accomplishments include: Hosted three dinners at the James Beard House NYC; Philadelphia Magazine, June 2005, "Best Meal in Atlantic City" (The Sound of Philadelphia); Advisory Board, Philadelphia Art Institute Culinary Program; Culinary competition winner: "Titanium Chef" (successfully defended two times); "Gourmet Cheese Steak Contest" winner, 2 years; Profile show on the Food Network (Rococo); Restaurant 2000 design feature (Rococo); Food Arts design feature (Rococo); Gourmet magazine's "America's Top Tables" (Rococo); City Paper "Best New Restaurant" People's Choice Award (Guru); Focus magazine "Best Italian Restaurant in the Bay Area", two years (Ciao); Wine Country magazine cover photo and article (Cain Cellars); Epicurean Rendevous "Top 100 Restaurants" (La Belle Helene); Mobil Guide: Three Stars (La Belle Helene); Chef/Host for Expicurean Society Dinners; Caterina d'Medici Society; La Chaine des Rotisseurs; American Institute of Wine and Food; Academia Italiana della Cucina; Craig Claiborne Honorary dinner; Personal host to Paul Bocuse, Georges Perrier and Jean Banchet.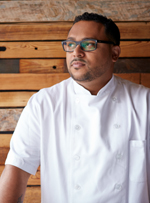 Kevin Sbraga
Chef / Owner | Sbraga Dining (Juniper Commons, Sbraga & The Fat Ham)
Chef and Restauranteur Kevin Sbraga is the owner of three prominent Philadelphia restaurants: Sbraga, The Fat Ham and the newly opened Juniper Commons. Sbraga was recognized as an Esquire magazine "Best New Restaurant" in 2012, while both Sbraga and The Fat Ham were included in Philadelphia magazine's "50 Best Restaurants" of 2015. Chef Sbraga brings his no boundaries approach to cuisine to new heights with modern American dishes at his namesake restaurant Sbraga, where he pairs flavorful ingredients and innovative courses with sophisticated cocktails and an expertly curated wine list. At The Fat Ham, the pork-centric menu draws inspiration from Southern country cooking, ingredients, and culinary traditions, while Juniper Commons spotlights Chef Sbraga's rendition of quintessential dishes from one of the most beloved decades, featuring a menu that is an ode to the 1980's updated for a contemporary palette. Chef Sbraga was the winner of Bravo's seventh season of "Top Chef" and received the award for "Best Meat Presentation" in the 2008 Bocuse d'Or USA culinary competition.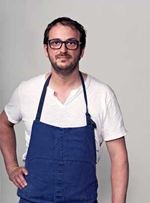 Peter Woolsey
Chef & Proprietor | Bistrot La Minette / La Peg
Peter, as an adolescent, started cooking breakfast foods and pasta sauces by his father's side. On a whim he decided to attend Johnson and Wales for the culinary arts and immediately fell in love with cooking as a profession. In the late 90's he began his professional career cooking at the Sun Valley Resort and New York's Waldorf=Astoria. In 2000 he moved to France to study pastry at Le Cordon Bleu. In Paris, Peter worked for the world famous three-star Michelin restaurant, Lucas Carton, under Alain Senderens and Frederic Robert. In 2002 he moved back to Philadelphia working at George Perrier's Le Mas Perrier and the Striped Bass under Alfred Portale and Chris Lee. In 2004 he married French native Peggy Baud-Woolsey. In 2008 he opened Bistrot La Minette only five months after the birth of his son Jules. Six years and many accolades later Bistrot La Minette has flourished. In August 2014, only one and a half months after the birth of his daughter, he opened La Peg, exactly six years to the day after opening Bistrot La Minette.
* All food for Bubby's Cook-Off is kosher and prepared by chefs and their crews at the Cook-Off venue under strict rabbinical supervision. Restaurants are indicated above exclusively to identify the participating chefs.