2019 Participating Chefs, Pitmasters & Judging Panel
Representing the finest from:
South Beach - Virginia - Brooklyn - New Jersey - Philly 
PLEASE CHECK BACK FOR UPDATED LIST 
All food for Bubby's Cook-Off is kosher and prepared by chefs and their crews at the Cook-Off venue under strict rabbinical supervision.  Restaurants are indicated below exclusively to identify the participating chefs. 
Judging Panel
Chefs and Pitmaster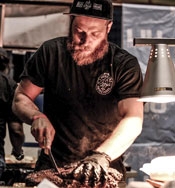 CHAD ROSENTHAL 
Philadelphia, PA
This Philly native eats, breathes, sleeps and creates all things food and especially barbecue. A self taught chef who has been in the kitchen since age five, Chad found his calling in the world of barbecue, having won a series of competitions and events over the last 15 years. He is also a successful restaurateur, having opened a handful of BBQ, Comfort Food and Vietnamese restaurants in the Philadelphia area, including fan favorites The Lucky Well and Bánh Street.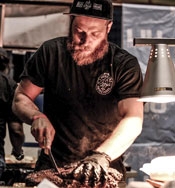 Pit master and Brisket King Izzy 
Izzy's Brooklyn Smokehouse
Brooklyn, NY

Winning an award at the Kansas City Barbecue Festival wasn't enough. In April, he was crowned as the highly coveted NYC Brisket King 2017 . The new king, Izzy Eidelman of I zzy's Brooklyn Smokehouse ,  is in fact a deserving champion who has been making outstanding BBQ for several years. 
CHEF YOS 
Hassid+Hipster  
South Beach, Florida
Hassid+Hipster is a unique and innovative culinary concept combining modern techniques with dynamic flavors and infusing it into the Kosher Culinary world.
Born in Brooklyn, NY, the heart of all things Hassid+Hipster, and expanding to Miami, Los Angeles and Jerusalem, H+H is pushing the bounds of taste and breaking the mold of the normal Kosher dining experience with pop-ups and other culinary events across the globe.
Judging Panel
JOHN MARKUS 
Emmy Award winnnig Producer of BBQ Pitmasters  
America's Most Influential BBQ Pitmasters and Personalities
Few people have had the impact on BBQ over the past few years that John Markus has had. We live in a world where television is as big of an influencer as anything else and Markus has done BBQ television better than anyone else from his original show All Star BBQ Showdown to his current hit   BBQ Pitmasters .
Hope Cohen 
Food & media personality, chef, restaurant consultant, and lover of all things food and wine  
www.cravephilly.com
In 2002, Chef Cohen's entrepreneurial spirit led her to found her own culinary consulting company, Strawberryblonde Consulting. As founder and President, she advises an ever-more-prestigious list of clients on restaurant concepts, cuisine, menus and proper culinary execution. She also instructs culinary seminars and has been a guest lecturer on food & culture at the ivy league powerhouse University of Pennsylvania. The world's largest television retailer, QVC, has taken notice, tapping Strawberryblonde and Chef Cohen to represent culinary products on air on a regular basis. She has been invited on several occasions to join James Beard Award winning chefs, as guest chefs in the kitchen at the prestigious James Beard House in New York City, part of The James Beard Foundation.
TUFFY STONE 
Cool Smoke BBQ
Lynchburg, VA
Stone began his culinary career whilst working under Alain Vincey in 1987 at Vincey's restaurant La Maisonette in Richmond, Virginia. He left the restaurant in 1991, and in November 1993 he started his own catering company alongside his wife, called "A Sharper Palate". He founded his barbecue team "Cool Smoke" in 2004, and cooks alongside his father George. He describes himself as a traditional wood burner, and tends to use hickory wood in his smoking. Stone and his team compete on the competitive barbecue circuit. He owns a Virginian based local chain barbecue restaurant called "Q Barbeque".